An Appreciation Letter...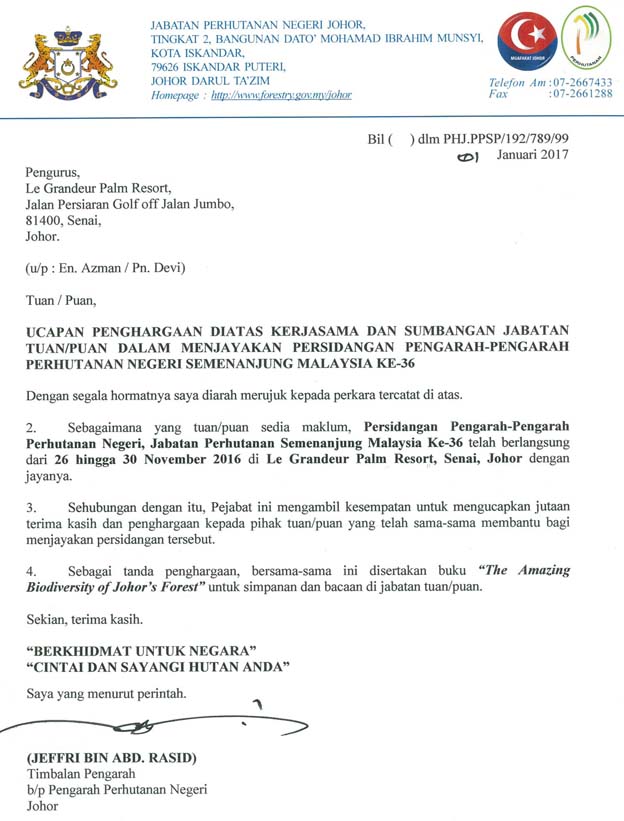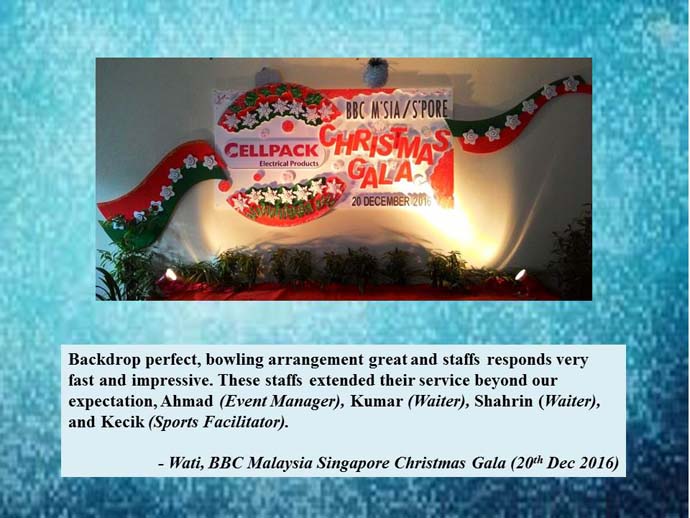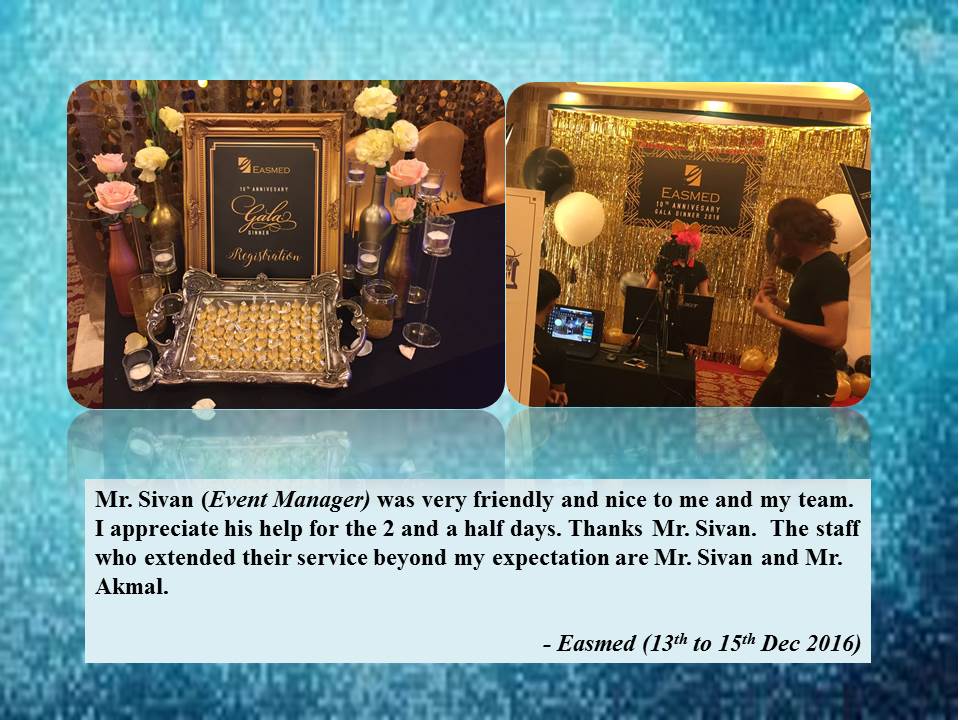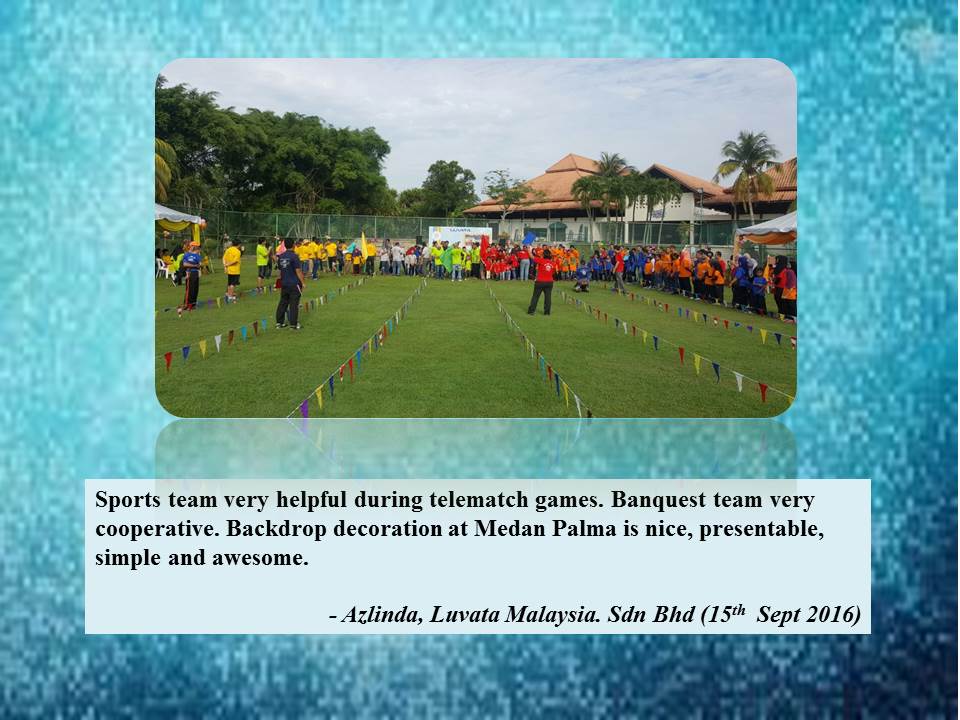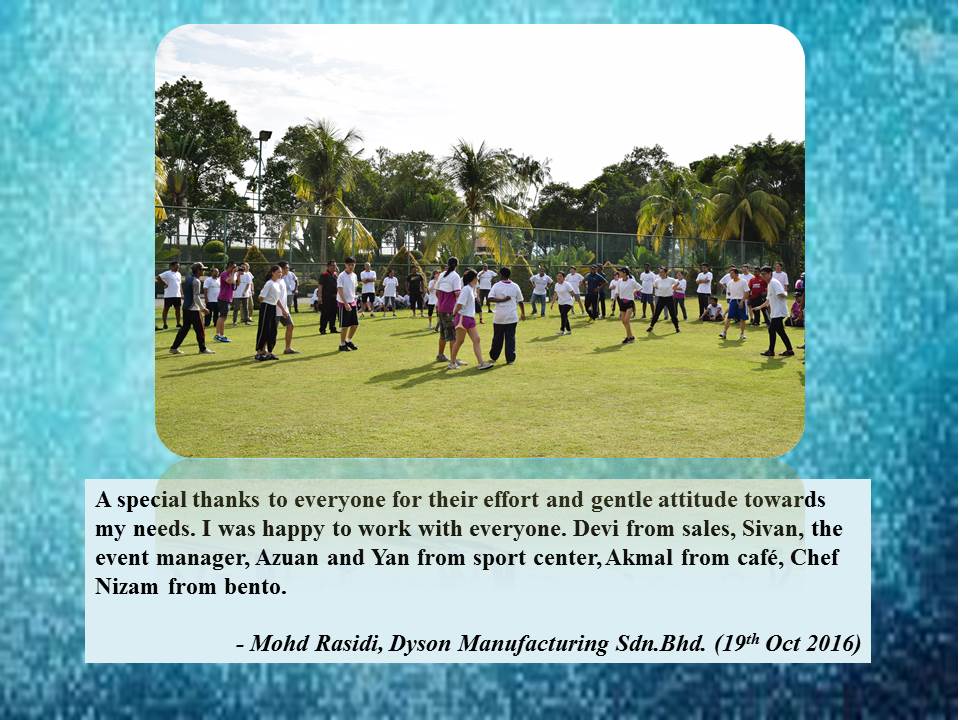 ---
Stayed October 2016, travelled with family – Richard Fung .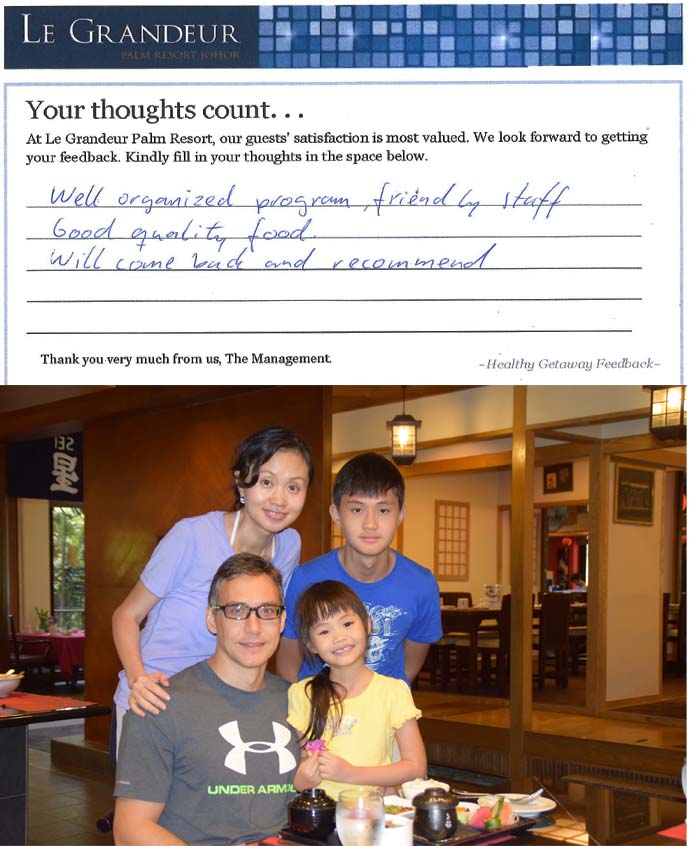 ---
Feedback from our Healthy Getaway programme...

---
The General Manager
Le Grandeur Palm Resort Johor
Jalan Persiaran Off Jalan Jumbo
81250 Senai, Johor.
Dear Sir,
An Experience to Share
This is one good experience that I would like to share with the hotel management. I come to play in the Ministry of Works Golf on 13 August 2016 and stayed in the hotel from 12 August 2016 to 14 August 2016.
I arrived by the air from KL to Senai Airport on 12 August 2016 at 3.30pm. As previously advised by the hotel, I called the hotel for the transport from airport to hotel. A lady answered my call and said she would transfer the call to the transport counter. Apparently her call to the counter was not answered as the driver was sending guest to the club house.
The lady took my contact number and assured me that she would personally make sure the driver picks me up. That was the first time in my experience of staying in hotels that staff said she would personally ensured I would be picked up. I was very much comforted by her assurance.
Sure enough fifteen minutes later, the hotel van came. A lady carrying a piece of paper with my name alighted. I straightaway spotted my name and felt so relieved that the transport came.
On the way to the hotel. I learned that the lady was the person that answered my call earlier. She not only arranged for the van to come but also come personally with the van to make sure I was transported to the hotel.
This lady by the name or EARNALIZA truly walked the talk. The hotel may be 4 stars but she provided 5 star service.
I am truly glad to have come across such a dedicated and committed person who took her responsibility seriously and ensured that the hotel guests are well cared for
Thank you Earnaliza, you have done the hotel proud and my stay a very pleasant experience.
Warmest regards,
Dato' Eng Chong Yuen
Room 431
---
Spent one night here with my 4 children. We got connecting rooms on the 4th floor. Hotel is a large complex with large rooms. Needs a facelift in the rooms with a little more colour so it isnt so gloomy with browns and creams. Nevertheless, rooms are clean and sufficiently equipt with towels, toothbrushes, soaps, even razors. Too bad we did not have time for swimming pool...will be back.
Stayed July 2016, travelled with family – Seringukay, Kuala Lumpur, Malaysia.
My wife and I have been to this place several times, and each time, we continue to be amazed at the sheer size of the place. There are some areas where the age of the place shows, however, but this is mostly in public areas like the pool, the walkways connecting the different parts of the resort, and the basement meeting areas. Other wise, the rooms are very comfortable and very spacious; bathrooms were bright and clean, and with the usual amenities (soap, shampoo, clean towels, hair dryer). The food spread was also adequate, and the taste was not bland at all.The staff were helpful at al times. Overall, and throughout the three times we stayed here, we had a great, relaxing time at this place.
Stayed January 2016, travelled with family – Ulyseses A
We stayed at Le Grandeur from 23 to 25 June 2016 with our teenage boys. We had two connecting Deluxe rooms on the 4th Floor. Rooms were spacious and clean. The rooms came with amenities like toothbrushes, comb, shaver etc. Great for business travellers. The hotel has been around for some time and age is beginning to show e.g. some cupboard doors are coming off their hinges, etc.

We had a fun time doing activities as a family such as bowling and going to the golf driving range. We also spent several hours at the Johor Premium Outlets which is just a short 15-min drive away.

If you like Korean food, we would highly recommend Yeon Korean Restaurant, located at level 2 of Palm Resort clubhouse. The food is authentic and the service excellent!

All in all, it was a good venue for a short family vacation that is within an hour's drive from Singapore.

Stayed June 2016, travelled with family – jloopc, Singapore.
A lovely surprise
I was only overnighting as I had an early morning flight and this hotel is the closest to Senai airport. I arrived at 10 pm to be greeted by a remarkably friendly helpful staff member who made the check in process the least troublesome I have ever experienced. My room on the second floor overlooking the pool was large, well equipped with satellite Tv and wifi., a bath and even feather pillows. I found myself wishing I was staying longer. I have stayed in quite a few hotels in Malaysia including quite a decent one in central JB. I would rate this as probably the best value for money I have experienced and if you dont need to be in town (which is a half hour drive if not peak hour) or you want to be bear the airport I would recommend this hotel highly. – Philip.G, Australia.
Nice comfortable rooms
Staff service is excellent and very accommodating. Good facilities and nice comfortable rooms. Like the ambience and good feeling. Good job:) - Saw L, Singapore.
Wonderful Hotel
Good hotel and value for money. However the hotel looks old and should do some makeover or renovation to look classy. – Yogeswary R, Malaysia